I recently installed the WordPress Ajax Edit Comments plugin and I have to tell you that I'm quite impressed with Ronald Huereca's work. The Ajax Edit Comments (AEC) plugin makes editing comments super simple for site visitors and administrators.
Setting up the AEC plugin is a breeze thanks to a clean administration interface featuring a wide variety of well explained options. Once installed, WordPress administrators who log into the Comments Administration section will see a new "Edit" link next to every comment (red highlight added for emphasis):
Pressing the "Edit" link brings up an Ajax window like the one below: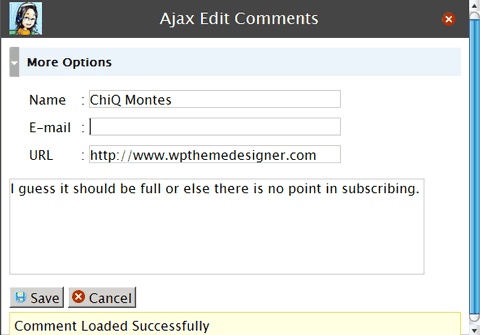 I find editing comments in this fashion to be quicker and more intuitive than the standard method of clicking the commenter's name, loading another page, editing the comment, and then reloading the page again to continue editing other comments.
Site administrators can also edit comments while browsing their site as long as they're logged in. It's a simple matter of clicking the new Edit, Moderate, Spam or Delete links located below every comment:
Of course the links shown above are only visible to site administrators but admins aren't the only ones allowed to edit posts.
Anyone who comments on an AEC enabled site (like PixelWit.com) is allowed a certain amount of time to modify their own comment via a "Click to Edit" link which only they can see:

The amount of time a visitor has to edit a comment is set by the site administrator. For PixelWit.com the time limit is currently set to 30 minutes which should give visitors a reasonable length of time to fix any mistakes or formatting errors they happen to notice after posting.
If you'd like to try the AEC plugin for yourself be sure to watch these 2 videos showing Ajax Edit Comments in action. The first video demonstrates the plugin from an administrator's perspective while the other video shows how Ajax Edit Comments can help your regular site visitors. Quality stuff.
Overall, AEC seems like a highly polished plugin with some great features that should be added to your standard WordPress toolset.

Comments(7)