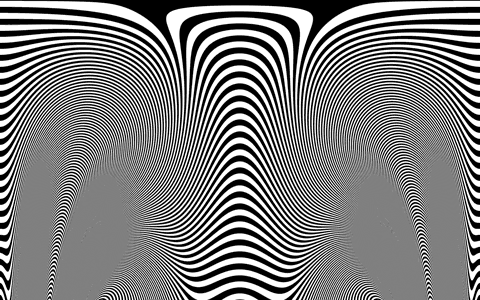 I thought I'd show-off my newly resized desktop wallpaper image called "Zebra Skin". Could you handle looking at this thing on your desktop all day long? Believe it or not, I've used this eye-bending pattern for more than a year. I like grouping related icons together in the striped moire pools and arrange my most important projects in a vertical line down the center "spine".
The little image above is a bit sketchy, fortunately the bigger images (below) don't "moire-out" as much.
Zebra Skin 1024 x 768 (225k)
Zebra Skin 1280 x 800 (279k)
Zebra Skin 1280 x 1024 (349k)
Zebra Skin 1440 x 900 (340k)
Zebra Skin 1600 x 1200 (482k)
Zebra Skin 1680 x 1050 (441k)
Zebra Skin 1920 x 1200 (546k)
I'm curious to know if any of you Photoshop users can reproduce the pattern or at least figure out how it's done. If you give it a shot, leave a comment and let me know how you make out.

Comments(5)