Loading ...
According to my FeedStats plugin, PixelWit.com's RSS feeds are accessed an average of 194 times a day. I'm not sure, but I'm guessing this translates to approximately 4 human readers and about 190 spambots. 😉
If you happen to be one of my few human RSS subscribers you might have noticed a new change in my RSS feed's format. This is due to a recent WordPress upgrade which forces RSS feed publishers to choose between either truncating all articles at a set number of words or publishing the entire article's text. As you may guess, I'm not particularly fond of either option.
Truncating all feeds at a predetermined word count can lead to awkward line breaks which abruptly halt sentences before the reader even has a chance to gain interest. That well-crafted first paragraph written to summarize concepts and encourage further reading will probably be cut short, chopped off before it even gets a fair chance to entice your readers. In other words a prematurely truncated RSS feed could be turning readers away at a time when you're trying to draw them in the most.
Setting the length of RSS feeds to a predetermined word count may not be a good solution but I like the alternative even less since publishing an article's full text in a feed can present even more problems. My articles often contain ActionScript code and other oddly formatted HTML entities which could disrupt the simple RSS feed format and potentially render them completely illegible. Take a look at this: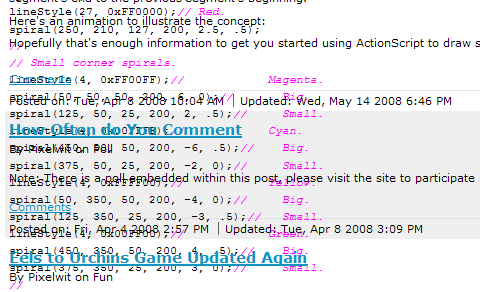 That's what my full text feed looks like in BlogLines. Not very pretty is it?
Another issue arises when SWFs, JavaScript (polls) and other advanced HTML features aren't published in "full text" feeds. This could potentially confuse readers who might not know know the author is referencing something in the article which can't be seen in the feed.
Full content feeds also reduce the incentive for people to leave their feed readers and visit my site. You might not guess it by looking at this place, but I actually try to format and display my content in a way that facilitates and enhances your experience. That's right, visiting my site gets you the Full PiXELWiT Experience! Coincidentally, the Full PiXELWiT Experience also gives you an opportunity to visit my sponsors which in turn helps keep PixelWit.com running. Which brings me to my next point… Ads suck.
As a content publisher, I try to place my ads in a manner that strikes a balance between being intrusive (bad for you) and being ignored (bad for me). Hopefully I'm doing a good job and the aforementioned "PixelWit Experience" makes the on-site ads tolerable or perchance even relevant and beneficial. Ads are great aren't they? No, wait… that's right, "Ads suck."
Obtrusive ads, excessive formatting, non-essential javascript files, poorly optimized image files… the reasons to avoid some websites go on. Avoiding general cruft and bloat is the main reason you want to skim content with an RSS feed reader in the first place. So why is it that most blogging pros recommend using FeedBurner to publish full content feeds with ads in them?
Doesn't that go against the point of publishing a feed? I'd like my RSS feed to be a quick, brief and well formatted synopsis of the full article. This used to be the default behavior of WordPress when it truncated feeds at the "more" tag but unfortunately that functionality has been removed from WordPress 2.5. Hopefully they'll bring this feature back as an option in future versions. Something like:
For each article in a feed, show:
Only the first [__] words.
All content before the "more" tag.
Full text.
In the meantime, I'm running the More-Feed-Excerpt plugin with mixed results. Some feeds are cut off at the "more" tag, some aren't.
Since I'm far from being a feed reading pro, I'd like to know your opinion on this matter. Which do you think is better, a set number of words, a well formatted chunk or everything all at once? Have your say by taking the poll or leaving a comment.
You can see what RSS feeds are available at PixelWit.com by visiting my RSS links page.

Comments(9)